16
Dec
TOCKY VIBES IMPREGNATED A 13 YEAR OLD GIRL NOT TAKING CARE OF CHILD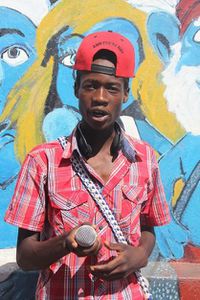 Tocky Vibes impregnated 13 year old girl, not taking care of child
December 11, 2014
Written by The Zimbabwe Mail
Tocky Vibes is hiding a secret – he fathered a child with a 13-year-old girl three years ago.
The past has caught up with man-of the-moment Tocky Vibes (real name Obey Makamure) as it emerged that the 21-year-old musician impregnated a 13-year-old girl three years ago.
He is alleged to be neglecting the love child he sired with a Marondera based teenager, Linda James (now aged 16).
Tocky is undoubtedly the new poster boy in town, enjoying his newly found fortune and fame but neglecting the fruit of his loins, it has emerged.
The talented chanter acknowledged knowing Linda but ironically was, however, unperturbed by the allegations and said it was only a passing phase.
"Jah Man (sic), you can go ahead and publish that I don't care about newspapers; people will read it and only remember it for two days. Ini ndichitoenda mberi (I will continue to make headlines). I mind my business," fumed Tocky who indirectly acknowledged liability.
In an emotionally charged interview with this publication, Linda said Tocky has been neglecting his three-year-old child, especially after his newly found fame.
"He has not been taking care of the child, and my mother is the one taking care of our child.
"I tried calling him but he is evasive and now he even blocked me and changed his phone number. I don't even know where he is staying now," lamented Linda who stays with her mother in Cherima High Density Suburb in Marondera.
According to Linda, the two met when Tocky was in rural Rusape and got into a romantic relationship that culminated into pregnancy, which Tocky owned up to then.
She said Tocky was then doing menial jobs and would visit her while she was in Form 1.
After the birth, she claims, Tocky relocated to Harare and he would constantly keep in touch with her and check on the child, but that has since stopped.
Linda said she was contemplating instituting legal proceedings and apply for a maintenance order at the civil courts.
Tocky has gained mileage in the cut-throat music industry following a series of hit singles such as Simudza Maoko, Mhai, Handityi and Ndini Ndinorira, to name but just a few.
He also stole the show at this year's edition of the Lion Lager Festival.
http://iharare.co.zw/tocky-vibes-impregnated-13-year-old-girl-not-taking-care-of-child/