19
Dec
The Truth About: Winky D..>We don't change, we add more names, every year. So you have Wicked DJ, Winky D, Winky D The Don, Wink D The Bigman and now Winky D Messi weReggae,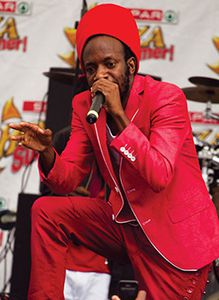 FEW Zimbabwean artists have generated the excitement Wallace 'Winky D' Chirumiko whips up at the mere mention of his name in recent years. The 28-year-old is without peer on the dancehall and reggae scene in Zimbabwe at present.
The Truth About: Winky D
Name: Wallace Chirumiko
Born: February 1, 1983
Hometown: Harare (Kambuzuma)
Marital Status & Children: N/A
How did you get the name Winky D?
It came from Wicked DJ. I was a small-time DJ in the early years in my music career and along the way the fans started calling me Winky D.
It was recently reported that you are changing your stage name, fact or fiction?
We don't change, we add more names, every year. So you have Wicked DJ, Winky D, Winky D The Don, Wink D The Bigman and now Winky D Messi weReggae, named after the greatest football star on the planet.
How would you describe your music?
My music is reggae. I'm more focused on the dance side.
How many albums have you released so far, and what has been the reception like?
I have seven albums and a LOT of singles. I record music every day. Every day I record a song because every day I see things. I'm a social commentator. The things I see, I put into song.
Your hit song Usarova Bigman has over 65,000 views on YouTube after just three months being on there. It's perhaps a measure of your rising stock in Zimbabwe. How do you feel about your newly-found superstardom?
I feel very much honoured. One minute I was writing a song in my room and the next the whole of Zimbabwe was singing along. It's a great experience.
Apart from the catchy beat, the lyrics for Usarova Bigman tell a fascinating story of infidelity and heartbreak. The video brings this story to life beautifully. What inspired you to write that song?
It's a confession [laughs]. It was something I was caught up in as a teenager. It's one of those things you experience as part of growing up. I'm sure a lot of other men out there have similar stories, or slight variations of mine. If you are man enough, you can confess. I have made my confession [hysterical laughter].
How much song writing do you do?
It's a daily thing. If my meditation is sharp, I can even write two or three songs daily. I don't do anything but music. I spend something like 15 hours in the studio on a normal day.
Do you do any productions for other artists?
Yes, I have been working with two youngsters Vigilante and my young brother, Layne (pronounced La-ya-n). I have a new artist just recruited, a 15-year-old boy named Toeky Vibes. He has a bright future.
What's your favourite musical instrument?
My voice.
Which Zimbabwean musicians do you look up to?
Every artist I have given my ear. As artists, we learn from one another.
Do you remember your first show?
Very well, it was sometime in 2001 in Waterwells. I was nervous. The moment I stepped on stage my heart was pounding, I couldn't look at the audience in the eyes. Eventually, I had to close my eyes and just do it, and the whole place shook as people cheered and called for encore.
What's the nicest thing ever said to you by a fan?
I was in Cape Town and this boy, he must have been slightly over three years, came over to me and said: 'Winky D can I tell you the truth? I like you more than my father.' I'm like 'don't say that in front of your father.' It was something amazing to hear, from a child.
WINKY D: MUSAROVA BIGMAN
What other career choices did you consider?
I started the music thing when I was going to school, as a DJ playing at backyard parties. The moment I finished school I did nothing other than music. I worked in TV once presenting Rockers Vibes on ZBC in 2006, but again it was a music show.
How do you start your week?
Winky D is not programmed, it depends on how things are going. It's not like a routine, I work to the situation.
Which schools did you go to and what were you like in school?
I went to Rukudzo Primary School and later Kambuzuma High 1. I was a soft person, cool even when I'm around you you would never notice my presence. They say the humblest cow has the most milk.
Have you ever been attacked by an animal?
No. I don't go into the bushes, I'm always where the people are.
What are you most afraid of?
With the Jah inside me, I don't think I can be afraid of anything. I just stand on my feet and overcome.
If your house was gutted by fire, and you had just enough time to pull out one item what would you save?
My book of lyrics. I write all my songs in this very big book the size of a Bible. That book is everything to me and my life is centred on it. Even if everything was burnt to ashes, with that book I can bring everything back.
What's your idea of a sexy woman?
When you say sexy that is like vanity. I don't deal with vanity. The looks are always deceiving; there are a lot of things to consider other than physical aspect of a woman.
What was the last book you read?
I'm not a reading person. I am actually a writer, people read from me.
Who would you most like to meet – dead or alive?
I don't like to meet dead people. I like to see my fans in numbers, I feel great. I give them good entertainment and to see people cheering and having a good time is all I want.
What do you think is the best song ever recorded?
I have heard a lot of good songs. When I was growing up, Bob Marley tracks were the most played in the neighbourhood. In others words, they were like forced onto me. But they were really good, even though I couldn't get the message at time what it was all about. I still listen to Bob Marley now and feel it's good music.
Can you describe yourself in three words?
Loving. Mad ("lyrically that is"). Bad ("lyrically that is").
What would you not travel without?
A pen. I can find paper anywhere. Ideas come to me all the time I just jot them down. Even as I'm talking to you right now, I can get a line or two from the things you ask me and I write it down. Music is like life to me.
If one artist was to perform at your party, who would get the call?
Beenie Man. He's the greatest dancehall artists ever to live. It's my humble opinion, I'm sure others disagree.
If you had the power to ban one thing in the world, what would that be?
We don't ban, we leave that to the most high. I don't like that kind of power, too much power makes people do evil.
Which artist has given you the most valuable advice?
Beenie Man. He came over to me when I shared a stage with him in Harare last year and told me 'Winky D you locked the place'. He said 'you're the future of Africa'. He told me 'I have travelled all over Africa, and you are one in a million'. He told me that twice, the second time when I met him in South Africa he reminded me: 'Winky D, do you still remember my words?'
If you were to be 18 again, what would you do differently?
Forward ever, backward never.
by Showbiz Reporter